Bing & Grondahl (B&G) Figurine Series
by Svend Lindhart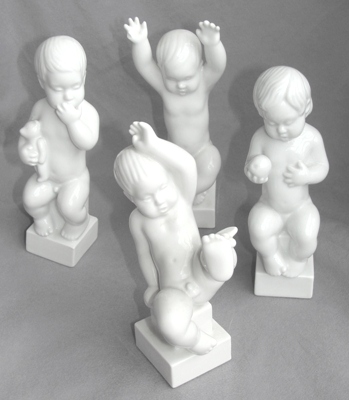 A series of four figurines of very young children expressing emotions typical of their world. The figurines are glazed white porcelain (without painted decoration), which emphasises their sculptural aspect All four figurines were discontinued in the mid-1980s, about the time (1987) that B&G merged with Royal Copenhagen. Last MSRP (List Price) for these figurines in 1984 was $75 each.
Svend Lindhart (1898-1989) designed these four figurines for B&G. He also designed The Four Aches (B&G #2206 through #2209) -- some of the best selling figurines ever produced by B&G, and still in production with the Royal Copenhagen trademark.
Click on any photo for a larger view; use the BACK button to return to this page. Use the BACK key from THIS page to return to the list of other figurines.
| | | |
| --- | --- | --- |
| | | |
| #2229 So Big! | #2230 Adam | #2231 Eve |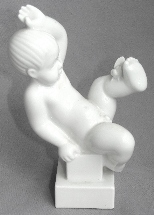 #2232 Fright
E-mail me at stan@tillotson.com or Return to Stan's Porcelain Home Page
PLEASE include your UPS shipping address (home or work; no P.O. Boxes) in your FIRST email; I cannot confirm the final price of any item until I know where it is being sent. Click here for additional information, including shipping charges and payment methods.